Whether you're planning a moving project or looking for storage solutions, United Mayflower Containers provides a simple, affordable alternative to traditional moving and storage options. At 16' long, 8' wide, and 8' high, containers hold the contents of a typical 1,500-square foot home (basement, garage patio, and attic items may require additional containers), making them perfect for moving, storage needs, remodeling or de-cluttering projects.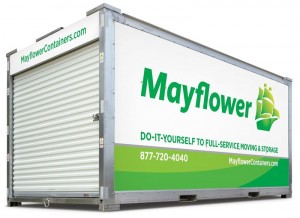 United Mayflower portable moving and storage containers were designed to the specifications of the moving professionals at United Van Lines and Mayflower Transit to benefit you, the consumer.
No driving required, delivered to your location – company will arrange for the driving! There's no need to worry about breakdowns, using a manual transmission or changing flat tires on a moving truck. United Mayflower containers are delivered to your house or business. You load the container at your own pace, give us a call and your container will be picked up and moved across town or across the country. It's that easy.
Storage available with no unloading – Load up your container at your own pace, give us a call to have it delivered to a local storage facility. You will not have to unload the container again until you call us to have it delivered to your house.
Comprehensive move cost OR All-inclusive move cost – When shopping for portable containers, make sure you are getting the complete picture! United Mayflower Container Services confidently display the total comprehensive price for container rentals for both storage and moving. When you compare prices of truck rental companies, be sure to consider the additional cost of fuel, insurance, mileage fees, tolls, lodging and your own driving time.
Ground-level loading and unloading – portable moving containers are low to the ground. You will not have to lug boxes up and down a ramp or learn how to operate a lift.
One call – It's simple to arrange ALL of your moving or storage needs from United Mayflower Container Services. In one simple phone call you can rent your container, book professional packing and loading services and buy packing supplies. No transferring, no other connections, just one call.
Over 150 years of experience – United Mayflower Container Services is more than just a company offering moving and storage container services. Through affiliation with United Van Lines and Mayflower Transit customer can get services from DIY to full-service moving and storage, in addition to container rentals.