Kentucky, also known as the Bluegrass State is renowned for breeding horses, tobacco farms, fine bourbon and the Kentucky Derby. Kentucky has a spectacular collection of natural attraction and parks with mysterious forests, fresh lakes, magnificent waterfalls, and caves.
Kentucky has so many songs, legendary figures, and captivating stories.  And as Daniel Boone said, it is a "Second Paradise."
The Commonwealth of Kentucky is located in the east south-central region of the US. Kentucky is one of the four states known to be a Commonwealth area. Kentucky was originally a part of Virginia, and in 1792 it became the 15th state to join the Union.  Kentucky is the 37th largest and 26th most populated state out of the 50.  The name "Kentucky" originated from the Wyandot Indian name for "plain," because of the central plains of the state.  Here is why Kentucky got its nicknames:
The Bluegrass State: Due to its abundance of bluegrass found in the state. You might think that bluegrass is blue, which it isn't. However, during the spring, when seen from a distance, the bluish-purple buds of the grass tend to give a bluish tint to the landscape.
The Hemp State: Because Hemp was a notable crop of the state
The Tobacco State: Around two-thirds of the national production of tobacco was from Kentucky
The Corn-cracker State: This may be due to the poor population that lived in Kentucky or due to the sound the crane makes, a cracking sound, later modified as "Corn-Cracker."
The Dark and Bloody Ground State: Due to the battles between Creek, Shawnee, Chickasaw, Cherokee and other tribes, which happened along the Cumberland River.
Kentucky is a land of many diverse environments and plenty of resources, which includes the Mammoth Cave National Park – the world's longest cave system, two out of the largest human-made lakes and the greatest length of navigable waterways.
Kentucky is also famous for horse racing, the bourbon distillery, KFC, My Old Kentucky Home, country music and college basketball.
Before moving to Kentucky:
Moving to Kentucky during the fall or winter is the best since spring is the rainy season and the summers are often hot and humid, making moving difficult.
In case you have no other option, make sure you take all the necessary precautions to ensure a smooth move-in, like a fully charged cell, toolbox, first-aid kit, provisions, etc.
Avoid heatstroke by hydrating yourself and wear head covering
Always be ahead of time if you are going to be moving to the larger cities because they have plenty of traffic.
Check for parking restrictions
Find out the utility provider for the county you're moving to.
Read our advice if you are uncertain what to choose: Truck rental or professional mover?
If you decided to go with a moving company, read this advice: 5 things to avoid when hiring moving company.
Climate
Kentucky has a humid subtropical climate, with plenty of rainfall
Average temperatures ranging from 23 °F the winter to about 88 °F in the summer.  Kentucky has moderate temperatures, not too cold as the northern states and not too hot like the states in the Deep South.  The climate in Kentucky is always suitable for outdoor activities like hiking, biking, and horse riding. It is also well-suited for agriculture, and the Bluegrass state's finest horses, corn, soybeans, small grains, hay, and tobacco grow well.
Unfavorable weather usually occurs in the spring and summer, between the months of March and September.  So it is prudent to look out for harsh climate before moving.
Largest cities
Kentucky has 425 cities which have been divided into two classes
First Class: Mayor-alderman government
Home rule class: all other forms
Frankfort is the capital of Commonwealth Kentucky. You may be wondering why Kentucky is called a Commonwealth. It simply is a traditional English term for a political community founded for the common interest.  The government makes decisions based on the common consent of the people.  Louisville is the largest city in the state.  Some of the cities in Kentucky are:
Lexington: Home of the University of Kentucky
Covington: A suburb of Cincinnati
Bowling Green: Base of GM's Corvette production
Danville
Jeffersontown
Georgetown: Manufactures Toyota
You can experience different ways of life from living on a ranch outside Lexington and residing in a condo in Covington.
Education
Kentucky ranks as 14th regarding the affordability of education
Educational institutes in Kentucky are accredited by the Southern Association of Colleges and Schools.  An educational reform implemented in 1990 resulted in some high-quality educational institutes. Some of the best educational institutes in Kentucky are:
Elementary Schools: Kimper Elementary School, Rosa Parks Elementary School, Scapa at Bluegrass
High Schools: Dupont Manual High School, Lousiville Male High School and Brown School all of which are in Louisville
Higher Education: the University of Kentucky, University of Louisville, Transylvania University
In 1998, The Ford Foundation along with Harvard University awarded the "Innovations in American Government" award to Kentucky's education system.
Food
What is the first thing that comes to your mind when you hear the word "Kentucky"? Kentucky Fried Chicken, isn't it? Kentucky has a knack for making simple, yet amazingly tasty dishes which will make you go "WOW". Here are 15 foods which are a reason for moving to Kentucky:
Lamb fries
Chili Buns
Stack cakes with fruits and syrup
Venison
Bourbon balls: a Christmas delicacy
Hot Brown: turkey sandwich with tomatoes
Burgoo: barbecue pork, potatoes, and carrots
Sausage, biscuits, and gravy: who thought this odd combo would become a Kentucky Special
Cornbread or Johnny cakes
Derby Pie
Barbecue chicken pizza
Barbecue in general
Beer Cheese: for the beer and cheese lovers alike
Obviously KFC, which the whole world has stolen the recipe for
Fried catfish: survival food turned traditional dish
If you like locally grown fresh food, check out these farmer markets in Kentucky.
Transport and roads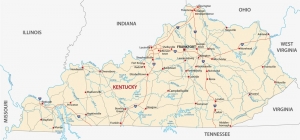 Kentucky has six major interstate highways, four bypasses, and nine parkways.
The national passenger rail service Amtrak runs from Ashland to Fulton. Kentucky's main airports are:
Louisville International Airport
Cincinnati/Northern Kentucky International Airport
Blue Grass Airport
Northern Kentucky International Airport/Cincinnati is the largest airport and is the 7th busiest airport in the US because it serves as DHL Aviation's super hub.
Kentucky is bordered by the Ohio and Mississippi rivers and has a rich history of water transportation facilities. As a state, Kentucky ranks 10th in port tonnage.
Cost of living
The cost of living in Kentucky is 21% lower than the national average
Additionally, in 2011, Kentucky had the 8th lowest cost of living out of all 50.  Though there are slight price increases in commodities, it is a gentle rise. The gas is quite costly when it comes to commuting as the average commute time is 23.5 minutes.
State property and personal income taxes
Kentucky levies taxes on six income brackets at rates between 2% to 6%.
All of the income earned by residents of Kentucky is subject to the state tax.  The following standards will be applied when calculating tax:
2% on the first $3,000 of taxable income.
3% on taxable income between $3,001 and $4,000.
4% on taxable income between $4,001 and $5,000.
5% on taxable income between $5,001 and $8,000.
8% on taxable income between $8,001 and $75,000.
6% on taxable income of $75,001 and above.
Interested in purchasing a new house in the Bluegrass state? Good choice because the property taxes in Kentucky is comparatively small. The average household pays only $987 per year in property tax, which is less than half of the national average.  The average effective property tax rate is also as low as 0.82%.
Tax in Kentucky is calculated during the summer, and the tax bills are mailed to houses during autumn.
Ethnicity and population
Kentucky's 4.4 million contains (as of 2010 census)
86% White Americans
7.8% Black/ African Americans
3.4% Hispanic/ Latino Americans
1.1% Asian Americans
0.2% American Indian and Alaska Natives
0.1% Native Hawaiian and Pacific Islanders
The largest ancestry groups are English 49.6%, Irish 26.3%, German 24.2%.
The religious affiliations of Kentuckians are:
48% atheists
42% Protestant Christian
3% Catholic church
74% Latter-day Saints
60% Others
Kentucky also has many seminaries, especially in Louisville.
Sports teams
Kentucky is abode to many sports teams of different kinds. Despite the popular stereotype that Kentucky is a basketball state, it produces more nationally ranked football players than basketball. In 2012, Kentucky had six high school rugby teams.  Here's a list of NCAA teams:
Lady Colonels: Women's basketball
Thoroughbreds: Baseball
Derby City Thunder: Football
Louisville City FC: Soccer
East Kentucky Miners: Basketball
Kentucky state: Pros & Cons
Low property taxes
Good Farming lands
Great food
No toll roads or bridges
Good horses! Yee-Hah
Affordable education
Low cost of living
Quality of education isn't that great
Hot and humid summers
No beaches, landlocked
Crime rates are relatively high
After moving:
A 6% excise tax is applicable when transferring your vehicle registration.
Obtain a voter registration card at the local county clerk's
Contact the local municipality to find your county's trash and recycling policies
Register your vehicle within 30 days of moving. It costs $9 for the title, $22 for lien, $21 for registration
Obtain your KY driver's license within 30 days as well.