Missouri is a fertile land with many plains, mountains, prairies and important rivers.  When you move to Missouri, you can feast your eyes upon the tallest national monument; St. Louis Gateway Arch and the Harry S. Truman's Library.
The two rivers Mississippi and Missouri helped the state become a supply center for many settlers of the west during the past. Missouri was labeled after the Missouri River which was coined after the Missouri Indians who lived along its banks. Missouri means "those who have dugout canoes" Here are some of Missouri's nicknames and their origins:
Show me State: When Congressman Willard Vandiver said, "Frothy eloquence neither convinces nor satisfies me. I am from Missouri. You have got to show me".
The Cave State: Thousands of caves have been found. 5,600 have been registered, and more are being discovered annually. At least 20 of these are "show caves" open to the public with guided tours.
The Lead State: Missouri is the premier lead mining state of the entire world.
The Bullion State: When Senator Benton was elected, he opposed banks and paper money and was known as "Old Bullion".
The Ozark State: Due to the Ozark Mountains
Missouri is the 18th most influential state and 21st largest of all 50. Missouri has a geographically diverse area and has plains, rivers, prairie lands and fertile agricultural soil. Humans have been settling in Missouri for the past 12,000 years. The French and Spanish ruled Missouri for a short while before Americans from the Upland South retrieved it. The Santa Fe Trail, Oregon Trail, Pony Express, and California Trail all began in Missouri. Many notable people hailed from Missouri: US President Harry S. Truman, Mark Twain, Walt Disney, Chuck Berry and Nelly.
Before moving to Missouri

Keep your eyes and ears peeled for the latest weather news before moving as tornadoes are very common
Avoid traveling during potential thunderstorms and tornado moments
In case you have no other option, make sure you take all the necessary precautions to ensure a smooth move-in, like a fully charged cell, toolbox, first-aid kit, provisions, etc.
Have an emergency escape plan figured out
If you're buying or renting a house, check for a storm shelter and ensure that you have enough insurance coverage.
Check for parking restrictions
Read our advice if you are uncertain what to choose: Truck rental or professional mover?
If you decided to go with a moving company, read this advice: 5 things to avoid when hiring moving company.
Climate
Missouri has a humid continental climate with cold and snowy winters and hot, humid summers.  However, the southern part of the state, the weather becomes humid subtropical.
Largest cities
In Missouri, the cities are categorized into three types: Class 3, Class 4, and the ones under Constitutional Charters. The largest cities in descending order are Skyline of Kansas City, St. Louis, Downtown Springfield, Independence (Satellite City of Kansas City), Columbia, St. Joseph, Joplin and Jefferson City. Some of the older cities are incorporated under the legislative charters (Chillicothe, Carrollton, Liberty, LaGrange, Missouri City, Miami, and Pleasant Hill) which are no longer allowed. Their population determines the level of incorporation as at the time they incorporate. The legislative charters do not change even if they gain or lose numbers, except the votes, are held by the people.
For a municipality, it incorporates as a Class 4 city provided the population is between 500 and 2,999 (if it's fewer than 500, it must be included as a village). It could be incorporated as a Class 3 city if the population is between 3,000 and 29,999. There is, however, more regulatory flexibility for Class 3 cities than the Class 4.
Education
If you are planning to move to Missouri with kids, you can be delighted because there are some elite educational institutions to choose from.
Missouri has both public and private schools, colleges and universities and many public libraries. The public education is governed by the Missouri State Board of Education.  It comprises of 8 citizens appointed by the governor and confirmed by the Missouri Senate.  Here are some of the important schools in the state:
Elementary Schools: Kennard Classical Junior Academy, Sappington Elementary, Truman Elementary School
High Schools: Metro High School, Lesterville High School, Linn High School
Higher Education: University of Missouri, Lincoln University, Saint Louis University, Washington University in St. Louis which is ranked among the top 20 in the nation.
Food
Missouri has a variety of dishes which you can choose from. So many choices! Most of these dishes were invented in the state and are unique to Missouri's towns and cities. If you like locally grown fresh food, check out these farmer markets in Missouri.
Here are 14 Missouri specialties that you must eat before you die:
Barbecue
Waffle Cone: This was invented here at the World's Fair
Sweet Missouri Corn
Louis Style Pizza: I guess you could call it square-pizza
Beans and ham hocks on cornbread: an easy and cheap staple food
Gooey Butter Cake
Toasted ravioli
7up- Invented here
Fried Morel Mushrooms
Fried Chicken
Baked Mostaccioli
Strawberries: freshly grown and harvested
Fried catfish and hushpuppies
Slinger: high cal yummy breakfast
Transport and roads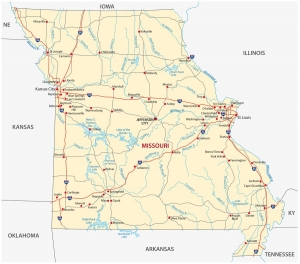 It's quite easy to navigate Missouri with the interstates that run through it.  This easy transportation has reflected in residents' access to employment, fun activities and total participation in societal life. The principal means of transport includes road, air, rail and ship transportation modes which all connect the city of St. Louis with the surrounding communities in Greater St. Louis. It also links up national transportation networks, and international locations. St. Louis also supports a public transport system that covers bus and light rail services.
Missouri's public transit has also been of immense help to people with disabilities. Some of the available transportation resources in Missouri include the Columbia Transit, Jefftran, Joplin Transit, Metro Transit, MO Rides, OATS, St. Charles County Transport, St. Joseph Transit, Springfield Transit and Segways. Missouri has three international airports; Kansas City International Airport, Jefferson City Memorial Airport and St. Louis Lambert International Airport.
Cost of living
Missouri's cost of living based on a US average of 100 is 89.60% with housing being responsible as the biggest factor in the living cost difference at 73%.  It should also be noted that while Missourian's actual revenues aren't rising as they ought to be, the living cost in Missouri is relatively still less than every other state.
State property and personal income taxes
The Show-Me State has a progressive income tax and a sales tax throughout the state, plus additional county and city rates. Missouri's average property tax rate (0.99%) is slightly below the national average (1.19%). Presently, Missouri's income tax rate ranges from 1.5% – 6%. With the cuts that have begun to take effect in 2017, the top rate is expected to fall from 6% to 5.5% over a period of 5 years.
The residents and people who work in Kansas City or St. Louis also have to pay a 1% earnings tax, which keeps their tax bills somewhat higher than average. Missouri's Property taxes are a major source of revenue for local governments (payments for schools, city administration, law enforcement, and other crucial local services). However, Missouri rates in Missouri vary significantly based on where you stay. For instance, in St. Louis County, the average effective tax rate is 1.38% while it's just 0.50% In Shannon County.
Ethnicity and population
Missouri's 6 million contains (as of 2010 census)
82% White Americans
12% Black/ African Americans
3.4% Others
1.6% Asian Americans
0.5% American Indian and Alaska Natives
0.1% Native Hawaiian and Pacific Islanders
The largest ancestry groups are 27.4% German, 14.8% Irish, 10.2% English, 8.5% American and 3.7% French.
The religious affiliations of Missourians are:
77% Christian
3% Non-Christians
20% Unaffiliated
Less than 1% Unknown
Sports teams
Missouri was the proud host of the 1904 Summer Olympics at St. Louis for the first time in the United States and hosts many sports teams. Missouri has five major league professional sports teams out of which two are in St. Louis and three in Kansas City.  Here are the major league sports teams:
Kansas City Chiefs- American Football
Kansas City Royals- Baseball
Sporting Kansas City- Soccer
Louis Blues- Ice Hockey
Louis Cardinals: Baseball
There are some minor league teams as well:
FC Kansas City: Women's Soccer
Kansas City Blues: Rugby
Kansas City Power: Australian Rules Football
Missouri Comets: Indoor Soccer
Springfield Lasers: Tennis
Missouri state: Pros & Cons
Low cost of living
Low housing costs
Less commuting time
No toll roads or bridges
Impressive attractions
Good farming
Very humid
Very hot
Drought
Tornadoes
Shortage of jobs
Crime is prevalent
Multiple nuclear power plants
Freezing during winter
Influx of population
After moving
Within 30 days of arrival, apply for a MO Driver's license; arrival, it costs $20 to get a six-year license.
Register your vehicle at the local county clerk's office within 30 days of moving. Perform an emissions test as well. It would cost $24.75 for a four cylinder vehicle, 27.75 for a six cylinder car, $11 for a title and $2.5 to record a lien.
Register to vote ASAP using the license or any identification certificate.
Check your trash and recycling methods, and if you live away from the city, you might have to find a waste management company.