Colorado is known to be home to some of the richest people in the world and like President Teddy used to say, Colorado, is healthy, hearty and handsome and is the "Switzerland of America."
Colorado is one of the highly elevated states in the country and is like honey to the swarm of bee-like trekkers and mountaineers of the world. Colorado is perfect for those who seek an active lifestyle in the most alluring places in the United States. You will have plenty of cities and towns to choose from when moving to Colorado. Want a beautiful, quiet and country setting? You have Breckenridge and Creed. Want a fast-paced hi-fi lifestyle, Denver and Colorado's Springs welcome you! Then there's Boulder, a famous college town, and Aspen where the rich and famous dwell.
Do you like Colorado? Share your passion!
Before Moving to Colorado
Check on the state parking restrictions and be ready to pay tolls while relocating.
Don't think of moving in the winter since Colorado is infamous for its heavy snowfalls and you will most likely be avalanched as a welcome gift.
In case you have no other option, make sure you take all the necessary precautions to ensure a smooth move-in, like a fully charged cell, toolbox, first-aid kit, provisions, etc.
Always be ahead of time because Colorado has unpredictable weather and you may get caught in some nasty traffic.
Read our advice if you are uncertain what to choose: Truck Rental or Professional Mover?
If you decided to go with a moving company, read this advice: 5 things to avoid when hiring moving company.
Colorado is a state in the southwestern part of The United States and is the 8th most extensive and the 21st most populated out of the fifty. Colorado was named after the Colorado River and contains the Southern Rocky Mountains and the northeastern part of the Colorado Plateau. Colorado is best known for its many geographical attractions like mountains, plains, plateaus, forests, rivers and deserts.
Climate of mountains and valleys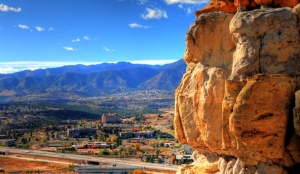 As Colorado is made of a mixture of mountains, canyons, and valleys, it has a very harsh climate, and these landscapes affect the environment substantially.  The Eastern Plains of Colorado have a semi-arid temperature; low humidity and mild precipitation.
This part is usually calm and sunny with clear nights. The foothills have an alpine climate at higher topographical elevations while the valleys have a semi-arid climate.  There exist subtropical climates as well. Extreme weather in Colorado is quite common but fortunately, this happens in the less populated areas, so it's not a serious problem.  But, wildfires and earthquakes are not new in Colorado as most of the state is quite dry and has petite precipitation. But, the aerial parts of Colorado benefit from moisture during the winter. Sometimes, the weather varies rapidly, and there are chances of thunderstorms and hail. Colorado has temperatures ranging from 80 to 90 degrees Fahrenheit and the lowest usually between 35 and 47 degrees Fahrenheit.   The Colorado Mountains act as a source of water for the surrounding farms in New Mexico, Utah, Nevada, and Arizona.
Largest cities
The main cities in Colorado are Denver, which is the most populated, Colorado Springs, Aurora, Thornton, Arvada, Westminster, Pueblo, Centennial and around 260 more municipalities, including towns.
Education
Colorado has 171 school districts and is home to many universities and colleges, some of which are: University of Denver, Colorado State University, University of Northern Colorado, Colorado College, Adams State University and much more.  The best schools are Challenge School, Denver, Aurora Quest Academy, Aurora and High Peaks Elementary School, Boulder, Vanguard School, Colorado Springs, Telluride High School. And Boulder is the college town of Colorado where you have excellent study + good scenic views to boost your brains.
Food
Colorado is a multi-cuisine state and has some specialties like:
Trout
The Colorado Snowball – it isn't a snowball really, just a mixture of Vodka, Fresca and Lime Juice
Peaches and Melon (check out these farmers markets)
Beer- has a myriad of tiny breweries
Rocky Mountain Oysters-Deep fried, mmmm
The best Lamb is from Colorado
Colorado Bulldog – it isn't a dog but a mixture of vodka, cola, and Kahlua
Bison? Better than traditional beef
Thick Crusted Pizza – what could be better?
The Mexican Cuisine – Made with the expertise of the south side neighbors, Bienvenidos!
Transport and roads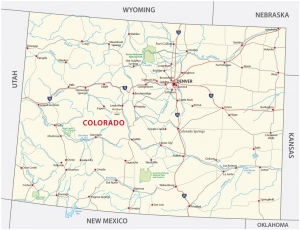 Colorado has one of the best transport networks and infrastructures, and they are always developing the roads to maximize driving safety and most probably, you will come across a few "Road under construction" signs in the summer.  Sometimes, due to the harsh weather conditions, there may be a few roadblocks, and it may not be safe to drive during those times as the vehicles may skid, or due to the presence of potholes.
Airports: There are 11 airports in Colorado including one International Airport; Denver International Airport and many smaller ones. Denver International Airport happens to be the 5th busiest airport in the world.
Roads: Colorado possesses a highly functional highway and road network which connects all areas, both urban and country.
Railway: The Amtrak transport service has a well-established system and provides public transport along the Denver-Grand Junction line and also to some shops in Colorado.
Public Transport: Colorado has many public transit organizations which provide transport around cities and even within the State.
Cost of Living
Colorado's impressive landscape, healthy lifestyle make it a great place to move to.  The average household income in Colorado is around $66,500. Colorado is on the list of the "top twenty expensive states to live in". Denver has a higher cost of living index than the other cities in the state.  The average house costs a bit more than $308, 000 and in Denver, this is around $350,000.
In Colorado, you'll have a large number of things to do, with its numerous attractions and shopping destinations, everyone will like their summer off at Colorado's beautiful canyons and mountains.
State property and personal income taxes
The state income tax for Colorado is a flat 4.63%, regardless of your federal taxable revenue and is due on April 15th and later if it is a holiday. Some of the lowest residential property taxes are found in Colorado, and they have an average effective rate of just 0.63%. We can calculate from this that the average household pays less than 1% of the home value in taxes every year.
The taxes collected in Colorado are used to aid the local services, and 100% of the revenues stay within the county. This is the reason why Colorado has the lowest residential property taxes. These taxes are pivoted on the market value of the property and the total tax rates levied by the taxing institutions.
The tax is evaluated in two-year cycles and depends on the comparison of the property values sold in the area. Evaluation notices will be sent each home on the 1st of May annually.
Ethnicity and population
Colorado's 5.5 million contain (as of 2010 census)
81.3% White Americans
20.7% Hispanic/ Latino Americans
7.2% Others
4.0% Black/ African Americans
3.4% Multiracial Americans
2.8% Asian Americans
1.1% Native American and Alaska Natives
0.1% Native Hawaiian and Pacific Islanders
The state has a huge 22% of German heritage which includes Swiss and Austrian nationalities, 18% Mexican, 12% Irish and 12% English.  People with German ancestry are usually found in the Front Range, the Rockies, and Eastern parts.
Owing to a large number of Hispanics in the state, their spoken English contains many Spanish idioms as well. The majority of the African-Americans are found in Denver and Colorado Springs.  It was reported that almost 43% of births in Colorado had at least one Hispanic parent.
The most spoken language is Spanish after English of course, and the Native Coloradan language is still spoken.  The majority religion is Protestants who make up 44% of the population, 25% unaffiliated, 19% Roman Catholic, and the rest 7.5% including Jews, Muslims, Buddhists, and Hindus.
Health
Coloradans have the lowest reported obesity rate in the United States. Colorado provides its citizens with various spots for biking, walking and with different other suitable environments to maintain an active and healthy lifestyle.
Sports Teams
Most of the major sports teams in the state are based in Denver and Colorado Springs. The five top professional sports teams are:
Denver Broncos – Football
Denver Nuggets – Basketball
Colorado Rockies – Baseball
Colorado Avalanche – Hockey
Colorado Rapids – Soccer
In addition to these, there are motorsports events as well like the Pikes Peak International Hill Climb which has hosted IndyCar Series, NASCAR Busch Series, NASCAR Truck Series, AMA Superbike Championship and USAC Silver Crown Series.
Many of Colorado's sports teams have amassed cult-like followings like the Colorado Rapids and the Colorado Rockies. "Rocktober" was used during the Rockies' winning streak in the 2007 World Series. So if you're up for hardcore sports, Colorado is a perfect choice.
Colorado state: Pros & Cons
The world's greatest amphitheater which is built on rock is in Colorado
Dog parks, dogs on skis, dogs at dinner, Colorado is overflowing with love for the doggers.
When you have the smash burger, why move elsewhere?
Hitchhikers usually get a ride
Tomato fest where you get smacked in the face with tomatoes by 5000 people. (that was a slight exaggeration; although the smacking doesn't hurt)
You live to ski in Colorado, season usually begins in November and ends in July
Colorado is the second happiest state in the country trailing behind Hawaii.
Colorado boasts low crime rates as well.
Legal marijuana? Whew hoo!
Everywhere in Colorado is a panoramic
Nobody litters in their backyard
Wildfires are a pretty frequent sight
Unpredictably unpredictable weather changes at the drop of a hat.
Altitude sickness for the new residents; just don't strain too much or you'll be nauseous
Low-speed limit-sigh
Rocky Mountain oysters are not seafood –but bull testicles actually
Route I-70 is usually packed with traffic
Everybody wants to move to Colorado after realizing how beautiful it is and thus, is at risk of overpopulation.
Vehicles have a sales tax
After Moving
Process an Application for a CO Driver's license within 30 days of arrival, which costs $21.
Register your vehicle at the local county clerk's office within 90 days of moving. Perform an emissions test as well.
Register to vote ASAP using the license or any identification certificate.
Check your trash and recycling methods, and if you live away from the city, you might have to find a waste management company.