Located in the western region of The United States, Montana is bordered by three Canadian provinces, British Columbia, Alberta and Saskatchewan and is nicknamed "Big Sky Country" and "Treasure State."
"Montana" is derived from the Spanish word for "mountain" – montaña. Montana is rated 4th regarding area and 44th in population.
There are 77 named ranges found in the state which are part of the Rocky Mountains, and the eastern state embodies prairie terrain and badlands. Montana offers a blessing of plenty of natural resources and history for its residents and visitors alike.
The primary sources of income of Montana are ranching, farming, oil, coal, gas and rock mining and lumber.
Do you like Montana? Share your passion!
Before moving to Montana:
Watch out for the harsh winters and scorching summers, as you might run into severe fogs or low lying clouds.
If you have climate allergies, take necessary precautions
In case you have no other option, make sure you take all the necessary precautions to ensure a smooth move-in, like a fully charged cell, toolbox, first-aid kit, provisions as Montana is least populated, and you might not be able to find help as soon as possible.
Check the parking restrictions
Change your address using USPS to move your mail along with you.
If you're the clubbing, party animal, then Montana is not for you, however, if you like the tranquil countryside with the peaceful country music, then go for the move!
Read our advice if you are uncertain what to choose: Truck Rental or Professional Mover?
If you decided to go with a moving company, read this advice: 5 things to avoid when hiring moving company.
Climate
As a state with a highly variable topography, Montana has equally variable weather conditions. The western part of Montana is highly mountainous and consists of valleys. Eastern Montana has plains and badlands with hills and isolated mountain ranges. This leads to Montana having a semi-arid, continental climate in the areas.
The Continental Divide also affects the climate since it restricts the warm air from flowing from the Pacific to the East and dry continental air moving west.  The west of the divide has a coastal climate with mild winters, cool summers, and less wind. Mostly, clouds and fog are found formed in the valleys of the west in winter, unlike the east. The northeast of Montana has harsh winters, very cool, lots of snow and ice.
Annually, the average precipitation is around 15 inches, and this number is more at higher elevations. The average temperature is between 28 degrees Fahrenheit in the summer and 84.5 degrees Fahrenheit in the winter.
Cities
Montana constitutes of 56 counties, and its capital city is Helena with a population of 28,000 only.  Billings is the most populated with over 100,000 people. Missoula and Great Falls both have more than 50,000 people.  These three cities are said to be Montana's Metropolitan Areas.  Billings, Missoula, great Falls, Bozeman, Butte, Helena, and Kalispell, ranked in descending order of population contain 35% of Montana's population.
Education
Education in Montana is pretty diverse. There are community colleges, state universities, tribal colleges and private colleges.  Montana, unfortunately, ranks lowest concerning education and teacher quality because the state doesn't spend so much on it unlike the states with higher tax rates. Few of the schools that provide quality education can still be found, like:
Elementary Schools: Great Falls Elementary School, Bozeman Elementary, Cold Springs Elementary, Missoula
High Schools: Gardiner High School, Fort Benton, Billings Central Catholic High School.
Higher Education: Montana State University, Salish Kootenai, Rocky Mountain College, Glendive, Miles City.
Food
Montana is famous for its cattle, pigs, and hogs. So it's evident that there is so much meat to die for. Here is a list of 12 extraordinary delicacies which are sure to have you giggling at the screen.
Wheat Montana Cinnamon Rolls
Pickle Barrel Sandwiches- a huge barrel spanning 17.5 inches
Huckleberries in all forms- Huckleberry jam, pie, ice cream, you name it!
Flathead Cherries
Burgers from the Burger Dive
Mackenzie River Pizza
Ice Cream from Arrowleaf
Steak- the perfect Montanan grilled meat.. (extra juicy)
Treats from Polebridge Mercantile- You need to stop the vehicle there
Elk burgers and Bison burgers- the only thing better than beef is bison meat
Meat Pasties
Cream of the West- roasted wheat
If you like locally grown fresh food, check out these farmer markets in Montana.
Transport and roads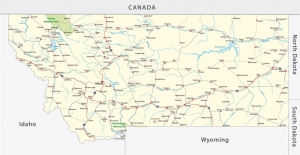 Being the 4th largest state and also bordering Canada, Montana has many routes and modes of transport which comprise of state highways, interstate highways, U.S Routes, and railroads.  Railroads have been the principal form of transport in Montana since the 1800s. The BNSF Railway is the largest in the state at present.
Montana has 16 airports functioning within it. The busiest airport is Bozeman Yellowstone International Airport. There are seven other major airports and eight minor ones providing commercial services.  Bus transport is quite sparse in Montana and function between one and five times per day, transiting between 20 cities in the state.
Cost of Living
The living cost in Montana is 6.29% lower than the rest of the country. This is because many energy resources like coal, oil, gas and water are readily available in the state. Montana also benefits from the lowest taxation levels. Here property taxes are very low, and this makes owning vehicles and houses very affordable. Though the average household income is quite low at $36,000, is sufficient for paying very few taxes and commuting for an average time of 18 minutes.
State property and personal income taxes
Montana's income system is divided and calculated under 7 ranges
1% on the first $2,800 of taxable income.
2% on taxable income between $2,801 and $5,000.
3% on taxable income between $5,001 and $7,600.
4% on taxable income between $7,601 and $10,300.
5% on taxable income between $10,301 and $13,300.
6% on taxable income between $13,301 and $17,100.
6.9% on taxable income of $17,101 and above.
Montana has comparatively low taxes on the residential real estate. The effective property tax of Montana is 0.87% lower than the national average of 1.19%.  Montana has low tax rates because the governing body is structured in such a way that the burden on homeowners of Montana is reduced.
Owner occupied residences are eligible for exemptions up to 47% which is way higher compared to the exemptions given to businesses and industries.  The property appraisal is carried out every six years in Montana. This lag makes the changes in tax gradual and not very sudden.
The tax rates of Montana are usually determined by its cities, counties and school districts. After all the processes and calculations, you will only have to pay 2.47% of the taxable market value.
Ethnicity and population
As per the 2010 census reports, the 1 million population of Montana includes
87.8% White Americans
6.3% American Indian and Alaska Natives
2.9% Hispanic/ Latino Americans
2.5% Others
0.4% Black/ African Americans
0.6% Asian Americans
0.1% Native Hawaiian and Pacific Islanders
The most populous European ancestry groups of the state are 27% German, 14.8% Irish, 12.6% English, 10.9% Norwegian, 4.7% French and 3.4% Italian.  About 94.8% of the population is reported to speak English, while the others speak Spanish, German, French, Italian, Russian, Japanese and Chinese, in descending order of most spoken.  Montana has a large Native-American population compared to other states
Religious affiliations of Montana are as follows:
47% Protestant
23% Catholic
5% Mormon
2% Jehovah's Witnesses
1% Buddhist
Muslim, Hindu, and Jewish 0.5%
Nonaffiliated 20%
Health
Montana is rated as the least obese state in the US at 19.6%.
Sports Teams
There aren't any major league sports franchises in Montana because it is has a small and scattered population. But quite a few minor league teams play for the state.
Baseball is the most popular minor-league sport and has an age old heritage. Montana presently has 4 Minor League Baseball teams. All colleges in Montana have their inter-college sports teams.  Both of the largest universities, University of Montana and Montana State University are rivals in the Big Sky Conference.  The smaller schools are members of the Frontier Conference and the Great Northwest Athletic Conference.
A myriad of sports are being played at the schools in Montana, and the smallest schools have six-man football teams. Montana also has junior ice hockey teams out of which five are affiliated with the North American 3 Hockey League. While others are part of the Western States Hockey League.
Montana state: Pros & Cons
Isn't Yellowstone national park enough to move to Montana?
Glacier national park!! Another reason!
No toll roads
Extremely low taxes + no excise tax
Less population density
Liberty Minded people
Numerous Winter recreational activities
Fishing, Hunting, Horseback riding, all the fun you can get
Has music bands playing during the weekend
It can get pretty lonely, really
Rampant poverty
Too much snow
Close to yellow super stone volcano – roasted
No social life L
After Moving
After being a Montanan for 30 days, register to vote at the local county office
Check your waste management by getting a private trash and recycling company
Apply for a Montana driving license within 60 days, 30 days if you require a commercial license.
It costs $12 to transfer a title, but a $5 Montana Highway Patrol Salary and Retention Fee plus a $4 state park fee may apply. It costs $8 to record a lien.